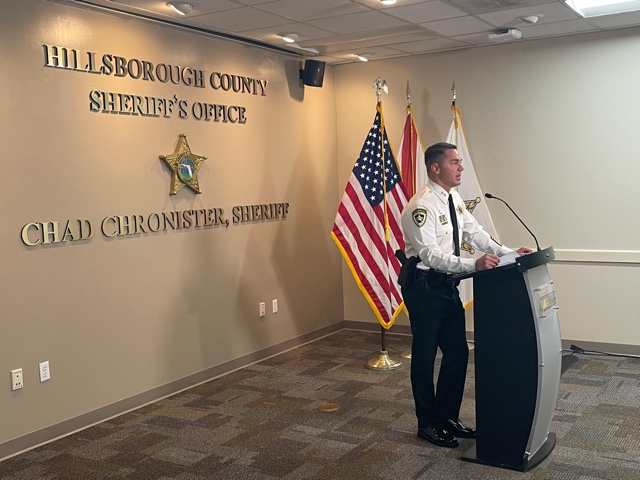 In an effort to combat and reduce gun violence, the Hillsborough County Sheriff's Office has formed a team of deputies and detectives tasked specifically with investigating non-fatal shootings.

Thus far in 2021, nationwide data shows the overall number of shootings that have killed or injured at least one person exceeds the first six months of 2020, which finished as the deadliest year for gun violence in the past two decades, according to data collect by Gun Violence Archive.

The amount of non-fatal shootings has risen in Hillsborough County over the last year with an increase from 44 cases in 2019 to 72 cases in 2020. As of July 1, 2021, there have been 34 non-fatal shootings in unincorporated Hillsborough County.

"Gun violence in any community should never be acceptable," said Sheriff Chad Chronister. "Recognizing the increasing national and local trends, we are initiating a proactive approach to combat and reduce gun violence in our community through the formation of the GRIT squad."

The mission of the newly-formed Gunfire Response Investigations Team (GRIT) is to take an assertive and centralized approach at investigating shootings with surviving victims, along with identifying and apprehending the offenders behind the acts of violence to ensure that they are aggressively prosecuted. The Criminal Investigations Division (CID) Homicide Section will continue leading efforts to investigate fatal shootings.

GRIT is comprised of four detectives, four deputies, and a supervising sergeant. The team will respond to and investigate non-fatal shootings involving victims across all five Hillsborough County districts. GRIT will work closely with the Bureau of Alcohol, Tobacco, Firearms and Explosives (ATF), using results obtained through the National Integrated Ballistic Information Network (NIBIN) to analyze ballistic information and search for links between weapons used to commit other crimes. By centralizing the team of deputies that comprise GRIT, HCSO will be able to more rapidly find connections between shootings and other crimes, including drug-related violence.

Since the formation of GRIT on Monday, June 28, 2021, the team's effort is already having an impact.

"In one case, where a victim was shot after an argument with an unknown person at a gas station, our GRIT squad only needed four hours to identify the shooter and get an arrest warrant," explained Sheriff Chronister.

During the shooting incident, which occurred at approximately 3:05 a.m. on July 1, deputies responded to a Mobil gas station located at 13164 N Florida Avenue. Two adult victims, a male and a female, were located with gunshot wounds. Both survived their injuries, and surveillance video was obtained, helping detectives to identify the suspect.

In another case on June 28, two individuals purchasing drugs at a home on the 7000 block of Tidewater Trail became involved in a verbal dispute, leading the suspect, Carlos Diaz, 39, to shoot the victim multiple times from his vehicle as he was leaving. The victim was struck in the neck and the back, but he survived his injuries. Within 24 hours, Diaz was identified, an arrest warrant was issued, and Diaz was later taken into custody.

"Through the partnership we have with our state and federal prosecutors, we will ensure that these criminals are no longer able to inflict fear and violence on our streets, in our neighborhoods, and in the community we all share," said Sheriff Chronister. "I am deeply committed to doing everything possible to reduce and eliminate violent crime, and I believe this new centralized and proactive approach will curb gun violence and save lives."

Sheriff Chronister reminded Hillsborough County residents that reducing gun violence is a responsibility shared by all members of the community, and some crimes can be prevented through gun owners remembering to store their firearms in a safe location, not an unlocked vehicle. In 2020, 290 guns were stolen from vehicles in Hillsborough County. In 2021, to date, there have been 170 guns stolen.

"These are crimes of opportunity that have significant consequences, as these criminals are using your firearms to commit violent crimes in our community," said Sheriff Chronister. "Let's make it hard on thieves by simply locking your car door."

Residents struggling with mental health issues who believe that violence is the only refuge are urged to seek help through one of many local resources, including calling the Crisis Center of Tampa Bay at 211.