Mission Statement
To be the bridge that connects the Indian Community with the Hillsborough County Sheriff's Office to serve, protect, and defend the community, while preserving the rights and dignity of all.
An individual had a vision to help our conservative culture and create opportunities for others to service this local community. Dr. Vipul Kabaria took his passion and transformed it into reality where he incorporated the Counsel in June 2014. The organization is classified as public charities and is exempt under IRC Section 501 (c) (3). Since then the organization has participated in various activities to build goodwill and better friendship, promote literacy and create awareness on resources available in our county.
History
Dr. Vipul Kabaria took his passion and transformed it into reality where he incorporated the council in June 2014.
Sheriff's Indian Advisory Council
2022 Leadership Team
President: Alpa Patel
Past President: Shailesh Patel
Vice President: Sonia Nijhawan
Treasurer: Mainsh Patel
Secretary: Vibha Shevade
HCSO Liaison: Deputy Amanda Brooke Woodke
Founder: Vipul Kabaria
Advisor: CJ Patel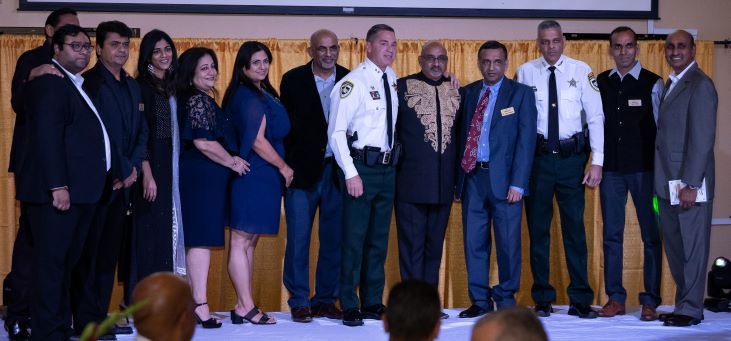 Upcoming Events:
Back Pack Drive

Major Fundraiser: Annual Banquet

Appreciation Diwali Luncheon

Annual Meeting: Leadership Elections
Our Community Involvement
​Past Events
This year has been unique for us but we were able to join other organizations to make a difference in our local community. In January we were able to connect with other Indian organizations to celebrate India's Republic day in Tampa FL. In February we partnered with HCSO at the FL State fair grounds to provide safe environment for our youths and families. In May we were honored to company the Hispanic counsel in feeding Tampa Bay. We showed appreciation to our frontline workers and provided dinner to detention deputies. We are proud to announce that we were also recipient of HSCO Community grant and this year we will be able to add additional school supplies for our students at one of our local elementary school. Despite the current situation we continue to meet over zoom and plan events with caution. We would love to add few new members to our team. For additional information please contact us at siactampa@gmail.com
In February of this year we partnered up with HCSO at the FL State fair grounds to keep our youths safe.
In March we were honored to deliver community safety presentation to our seniors at ICC in Tampa. More than 200 people were in attendance and our HSCO liaison deputy Ketan Patel provided valuable and breathtaking information to the seniors of our community.
In April we partnered up with FishHawk-Riverview Rotary Club and were able to contribute towards their Dictionary Project. Until today this Rotary Club has distributed more than 20,000 dictionaries to the local schools in Riverview Area.
May was an exciting month for us, we participated in Walk Green 2019 event organized by BAPS Charities, and we were proud recipient of the Community enrichment grant through the Hillsborough County Sheriff's Office. This will allow us to provide additional school bag packs to Palm Riverview Elementary school in Tampa FL.