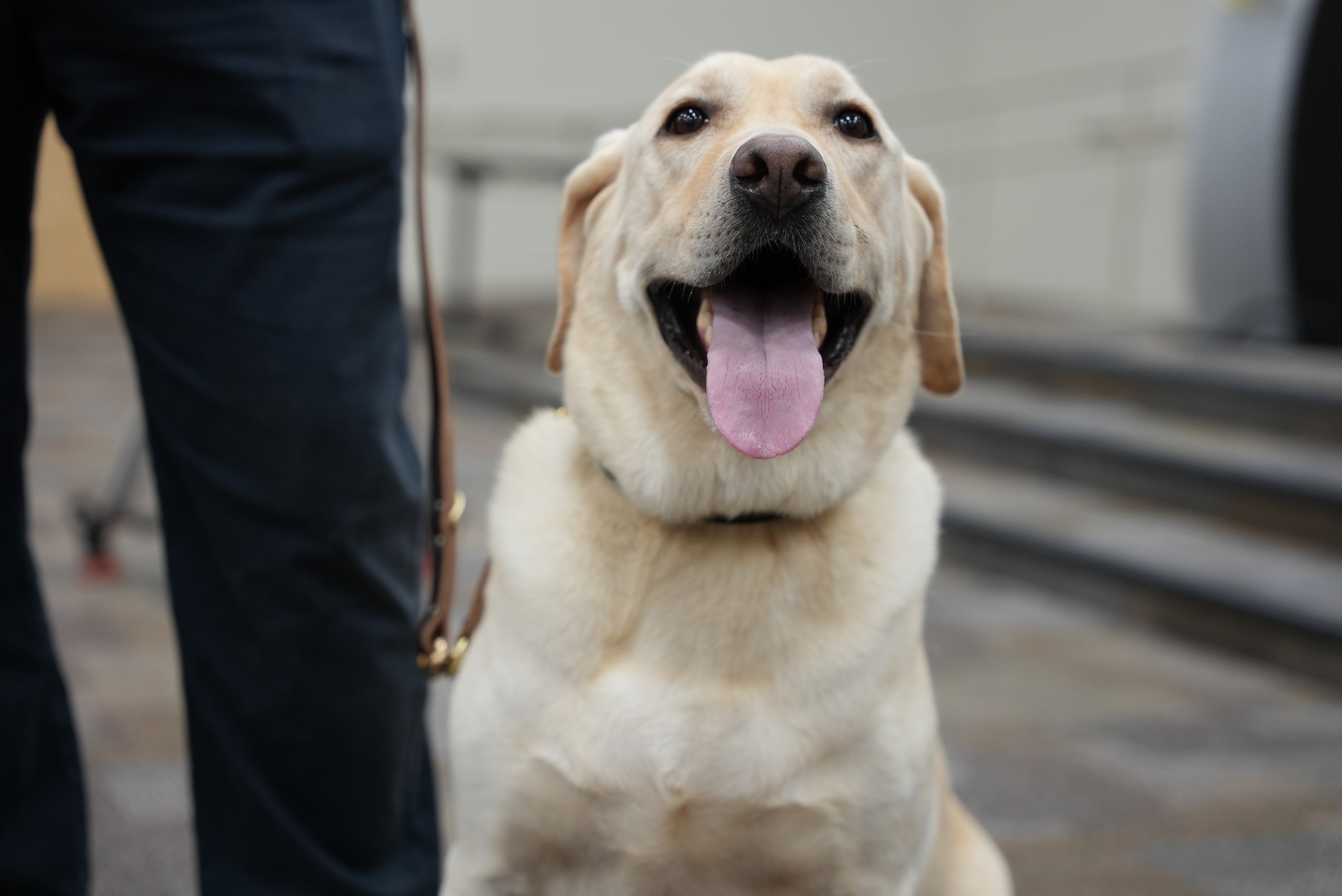 TAMPA, Fla. (Sept. 1, 2021) – Earlier today the Hillsborough County Sheriff's Office announced the adoption of Mason – a Service Dog – who is being donated by K9s For Warriors, the nation's largest provider of trained Service Dogs to military veterans. Founded in 2011, the nonprofit has paired nearly 700 veterans with Service Dogs to-date and rescued more than 1,300 dogs overall.
Mason, a Labrador retriever, becomes the sixth dog overall to be adopted through K9s For Warriors' station dog program. The program reallocates trained Service Dogs who either have been "retired" following their time paired with a veteran or are designated with a temperament better suited for a station dog environment.
"We are overjoyed in welcoming a new member to the Hillsborough County Sheriff's Office family," said Sheriff Chad Chronister. "Mason's presence and unique skillset will brighten our halls and offices and bring comfort to those who need to decompress and share a moment with a furry friend. Our days are often filled with challenging situations, and at times tensions run high, but Mason's friendship will help keep spirits up and remind us that no one walks alone."
"First responders encounter traumatic situations that aren't dissimilar to what our veterans experience," said Rory Diamond, CEO of K9s For Warriors. "Our station dog program is built around a Service Dog's ability to alleviate stress and elevate emotional wellbeing, and we're eager for Mason to bring a level of companionship and support to the entire HCSO team."
In conjunction with the adoption, the HCSO will assign a staff member to provide primary care for Mason and be responsible for integrating him into the department environment. As a Service Dog, he is specifically trained to recognize signals of anxiety or stress and intervene.
Previously, Mason received preliminary training through K9s For Warriors' puppy raiser program and subsequently took part in rigorous training to become a Service Dog for a military veteran suffering from PTSD.
Upon initially being paired with a Warrior in February 2018, Mason immediately began to help mitigate his veteran handler's symptoms of PTSD. After spending a few years at his veteran's side, his handler concluded that he no longer needed the presence of a Service Dog to combat his military trauma, and graciously agreed to return Mason for a new purpose in serving others.
About Hillsborough County Sheriff's Office
Established in 1845, the Hillsborough County Sheriff's Office is the 10th largest county law enforcement agency in the United States and serves the second-largest service population in Florida. The agency provides comprehensive law enforcement, detention, court security, child protective investigations, and warrant services for approximately 1.44 million residents. Distributed among five districts, the Sheriff's Office has approximately 4,000 employees, including sworn and civilian personnel. From land, water, and air, in the event of an emergency, HCSO has several highly-specialized units that can respond at a moment's notice. Committed to protecting and serving Hillsborough County, the Hillsborough County Sheriff's Office strives for excellence and under Sheriff Chad Chronister's leadership, the agency continues to reach milestones and serve as a positive example in the law enforcement community.
About K9s For Warriors
Committed to conquering veteran suicide, K9s For Warriors is the nation's largest provider of trained Service Dogs to military veterans of all eras who are suffering from PTSD, traumatic brain injury and/or military sexual trauma. With the majority of dogs coming from high-kill rescue shelters, this innovative program allows the K9/Warrior team to build an unwavering bond that facilitates their collective healing and recovery. This treatment method is backed by scientific research (from Purdue University's OHAIRE Lab) demonstrating Service Dogs' ability to help mitigate their veteran's symptoms of PTSD while simultaneously restoring their confidence and independence. Founded in 2011 as a 501(c)(3) nonprofit organization, K9s For Warriors remains committed to bringing widespread awareness to veterans' mental health and contributing to policy-level reform. The organization's four primary business operation facilities include: K9s For Warriors National Headquarters and Campus for K9 Operations (Ponte Vedra, Fla.,) Petco Love K9 Center (San Antonio, Texas) and Gold Family Campus (Alachua, Fla.)
Additional Images