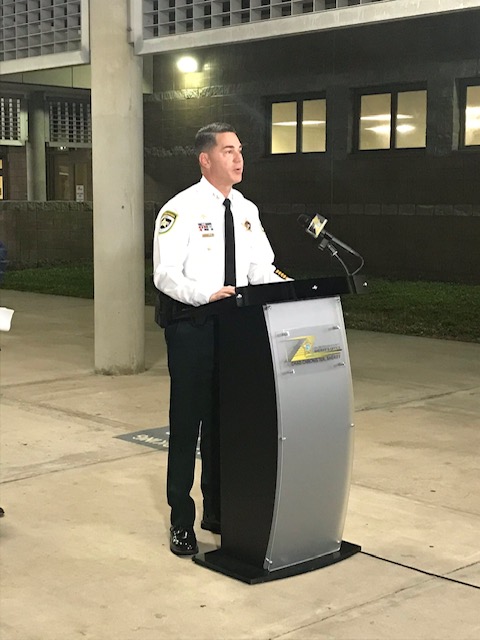 At the order of Hillsborough County Sheriff Chad Chronister, an emergency measure is being taken to prevent the spread of the coronavirus in Hillsborough County Jails. Effective Wednesday, March 18, low-level, non-violent offenders in the Orient Road Jail and the Falkenburg Road Jail are being released from custody.

"As your Sheriff, there is nothing I take more seriously than public safety and protecting our community," said Sheriff Chad Chronister. "In times of crisis, like the health crisis we are facing, agencies around the country are finding ways to balance public safety and the health of their employees and neighbors. We are no different."

With the support of Chief Judge Ronald Ficarrotta, a total of 164 inmates have been approved for release.

"These defendants are the lowest public safety risk and many were merely sitting in jail because they could not afford to pay the amount it would take to bond out," said Sheriff Chronister. "These defendants will still have to answer for the criminal charges against them."

By decreasing the size of the inmate population, the goal is to reduce the risk of exposure to the coronavirus to inmates, detention deputies, civilian staff members, their families and ultimately the entire community.

Violent offenders who pose a high risk to the community will remain in jail while they await their due process in criminal court. Any released inmate who reoffends will be rebooked into the jails. The Hillsborough County Sheriff's Office has routinely taken this emergency action in times of crisis. Most recently, in 2017 during Hurricane Irma, low-level, non-violent offenders were released from custody.

"During this health crisis, we must focus our law enforcement resources on our highest priorities. Public safety and the health of our team are at the top of that list," said Sheriff Chronister. "It is my hope that these individuals will make the most of this opportunity to be with their loved ones during this time of uncertainty."

As of Thursday, March 19, there are currently no confirmed cases of COVID-19 in Hillsborough County Jails.

Additional Images