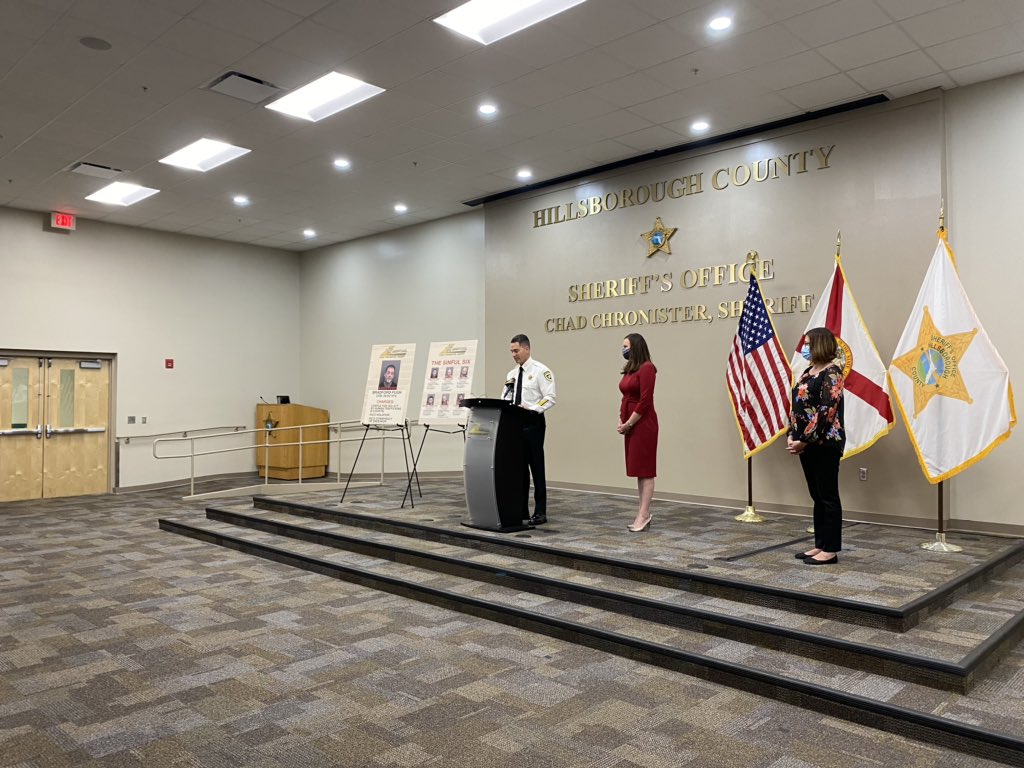 A three-month-long investigation has led the Hillsborough County Sheriff's Office to arrest six men on charges of human trafficking and racketeering.

Hillsborough County Sheriff Chad Chronister, joined by Florida Attorney General Ashley Moody, detailed the investigation during a press conference on Tuesday, June 23, at the Falkenburg Road Jail in Tampa.

The suspects, dubbed "The Sinful Six," are each facing charges of human trafficking and racketeering under the Racketeer Influenced and Corrupt Organizations Act (RICO).

"Today's announcement is one of historic perspective," said Sheriff Chad Chronister. "We believe this is the first time in the state of Florida that RICO has been used in a human trafficking case."

Through the course of the investigation, detectives learned that the six men involved were not only forcing their victims to have sex for their own financial gain but also trading the women with other traffickers within their criminal organization to maximize profit.

"What the defendants did to these women sickens me. It should sicken everyone who wants to live in a secure, safe community," said Attorney General Ashley Moody.

The investigation began in January 2020, when HCSO deputies encountered two individuals traveling from Ohio in a reported stolen car. Patrol units located the vehicle in a store parking lot, and a male driver and female occupant were arrested for grand theft auto. Based on their interactions with the two suspects, deputies learned that the woman was a victim of human trafficking. Further interviews with the victim led detectives to more female victims and a group of men that would post their photos online and advertise them for sex.

"Detectives identified a common connection among the victims. They all suffered from drug addiction," said Sheriff Chronister. "The Sinful Six involved in this organized human trafficking ring took absolute advantage of the victims' dependence on illicit drugs. By supplying them with heroin and methamphetamines in such large quantities, they became what is known as dope sick."

"Dope Sick" is a term used to describe someone who has become so dependent on drugs that they become physically sick when they are not high.

The traffickers would keep track of the drugs they were providing and force the victims to engage in sexual acts for money when they did not have enough money to pay for their drug addiction.

Through undercover investigations, Bradford Pugh, 43, was identified as the ringleader of the Sinful Six. Pugh managed the online sex advertisements for a number of women, drove them to meet with men for sexual relations, and paid for their hotel rooms.

The five victims deputies were able to rescue have each been offered support services, such as drug treatment and housing, through the non-profit organization Selah Freedom.

"Human trafficking is a 24/7 criminal enterprise, and not even a global pandemic that has millions limiting personal contact and staying at home stops it from happening," said Attorney General Moody. "I want to thank Hillsborough County Sheriff Chad Chronister and the hard-working men and women of his agency for their extraordinary work in taking down this criminal organization and rescuing the women who were repeatedly victimized by the defendants in this case."

Sheriff Chronister added, "As a member of the Attorney General's Statewide Council on Human Trafficking, I can tell you that the horrific practice of human trafficking is affecting our entire state and remains a priority for not only the Hillsborough County Sheriff's Office but our state and federal partners as well."

Sheriff Chronister noted during the press conference that detectives believe there are more suspects involved in the operation and more victims as well.

"My message to individuals who feel it is acceptable to prey on other humans and exploit their vulnerabilities for profit as a human trafficker: You have reason to be scared," said Sheriff Chronister. "Our investigations will not stop, and we will be relentless in our efforts to rescue human trafficking victims from your grip."

Anyone who is a victim of human trafficking or anyone who believes they know someone who could be a victim is urged to call the National Human Trafficking Hotline at 1-888-373-7888.
Additional Images