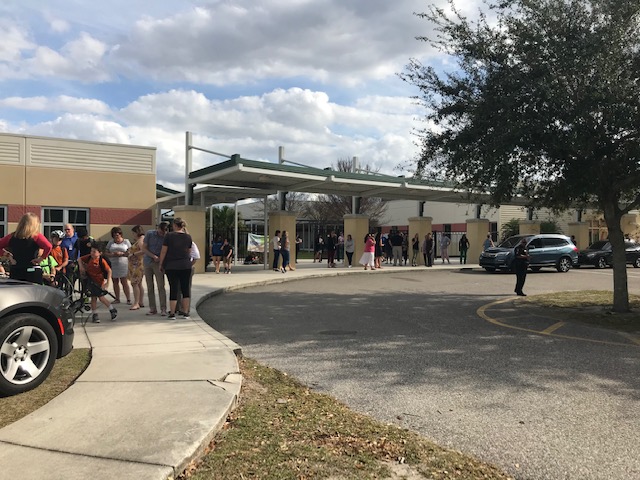 A false report of a gun on a school campus was called into the Hillsborough County Sheriff's Office on Wednesday, February 12. The call led to a lockdown at both Glenn Barrington Middle School and Stowers Elementary School in Lithia.

At 2:14 p.m., a 911 dispatcher received a phone call from a male who claimed he was in a bathroom inside Barrington Middle School and his friend had a gun. When the dispatcher began to ask the caller for more information he hung up the phone.

The school resource deputy at Barrington was immediately notified, and he quickly began searching the campus while communicating with school resource officers at Stowers Elementary, which is connected to the middle school. Both schools were placed on lockdown.

HCSO patrol deputies arrived on the scene in four minutes. The Sheriff's Office Aviation and K-9 Units were also dispatched to the schools as a precaution.

Deputies searched and cleared each building. No students were injured and no gun was located on either campus.

At this time, the phone number used to make the 911 call appears to be a spoofed number, however, detectives are working to track down where the call was made.

"We are fortunate that this turned out to be a false alarm. No one at either school was ever in danger, but regardless of how fake this threat was, it felt just as real to the students, parents, and staff who were frightened and traumatized by this incident," said Sheriff Chad Chronister. "Fake school threats have become too prevalent. Parents, I am begging you to sit down with your children and explain the ramifications and consequences of making a fake threat. When we find this individual, he will be held responsible for this nightmare caused today."

Sheriff Chad Chronister created a public service announcement (PSA) reminding students what can happen if they report a fake school threat: https://www.youtube.com/watch?v=lcdh9FTqXHs&feature=youtu.be

Once located, the caller in Wednesday's incident will face a charge of Disrupting a School Function (misdemeanor) and Abuse of 911 (felony).

Audio from the 911 call has been uploaded to the HCSO Sheriff YouTube account: https://www.youtube.com/watch?v=UNos5WSDJZc&feature=youtu.be

Anyone who recognizes the voice of the caller or has information that could lead to an arrest is asked to call the Hillsborough County Sheriff's Office at 813-247-8200 or Crime Stoppers of Tampa Bay at 1-800-873-TIPS (8477).