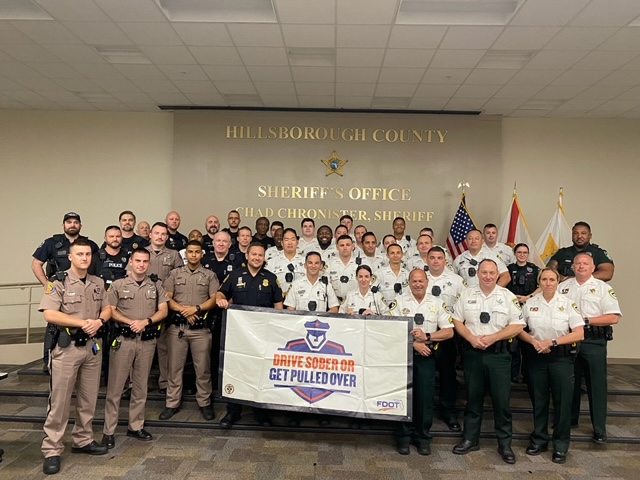 The Hillsborough County Sheriff's Office conducted 656 vehicle and vessel stops to protect our community from impaired drivers and ensure a safe and enjoyable Labor Day weekend celebration for all.
The Hillsborough County Sheriff's Office is proud to announce the final results of "Operation Summer's End," a joint-agency enforcement initiative focused on addressing DUI (Driving Under the Influence) and BUI (Boating Under the Influence) offenses over the Labor Day Weekend.
HCSO, in partnership with the Tampa Police Department, the University of South Florida Police, and the Florida Highway Patrol, dedicated its efforts to ensuring the safety of our community members during this holiday weekend.
"Every impaired driver and boater arrested represents a potential life saved. When you choose to operate a vehicle, whether it's a car or a boat, under the influence of alcohol, you're not only risking your own life but the lives of everyone around you," said Sheriff Chad Chronister. "Driving or boating under the influence is not just a reckless choice; it's a potentially deadly one that we will not tolerate."
The following are the totals for HCSO's 'Operation Summer's End' enforcement:
DUI:
Traffic Stops: 582
Citations: 51
Warnings: 531
DUI Arrests: 43
Other Arrests: 5
BUI:
BUI Arrests: 1
Vessel Stops: 74
Safety Inspections: 70
Citations: 5
Warnings: 45
Boat Ramp Checks: 12
Other Arrests: 1
The following are collective totals from HCSO and participating agencies as part of 'Operation Summer's End:'
Traffic Stops: 885
Citations: 131
Warnings: 706
DUI Arrests: 77
Other Arrests: 22
Additional Images