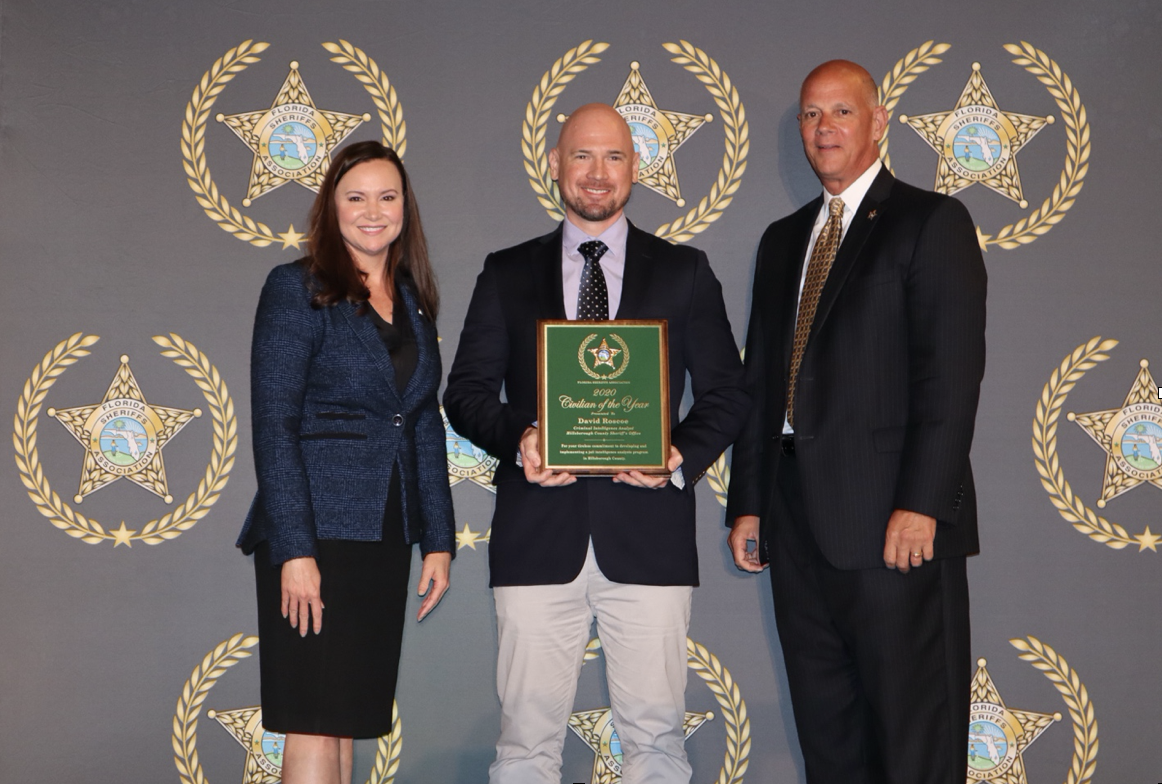 The Florida Sheriffs Association (FSA) has named Criminal Intelligence Analyst (CIA) David Roscoe of the Hillsborough County Sheriff's Office (HCSO) as the recipient of the 2020 Florida Sheriffs Association's Civilian of the Year award. This award recognizes exemplary service above self by a civilian employed at a Florida sheriff's office.

David Roscoe has been with the Hillsborough County Sheriff's Office since September 2018 and has already made a huge impact. In 2019, the HSCO Crime Analysis Unit developed a jail intelligence analysis program to gather and analyze potential intelligence from a variety of sources within HCSO detention facilities. CIA Roscoe spearheaded the project and built the current system from the ground up.
Coming into the job with over 14 years of experience as an All-Source Intelligence Analyst, CIA Roscoe brought vast experience with (and knowledge of) counterintelligence, criminal insurgency, international narcotics operations, and transnational crime. These talents allowed the program to flourish under CIA Roscoe's leadership.

During the implementation of the initial plan, CIA Roscoe also developed relationships between the Crime Analysis Unit and detention staff that did not previously exist. These partnerships allowed for the program's many successes, including the identification of an inmate in possession of a tattoo tool, a potential hunger strike, a possible smuggling tactic to introduce narcotics into the jail facility, multiple inmates threatening suicide, multiple incidents of potential violence and threats between inmates, theft of food, possession of a sharp-edged weapon, and several threats of violence against detention deputies.

"During 2019, the accomplishments CIA Roscoe made with the jail intelligence program have highlighted his creativity and ingenuity," said Sheriff Chad Chronister. "His hard work has made a long-lasting impact on our crime-fighting efforts and helped make our detention facilities safer and more secure. I am proud to have CIA Roscoe among our dedicated civilian staff at the Sheriff's Office, and I am honored that his work is being recognized on such a large scale by the Florida Sheriff's Association."

One of the biggest accomplishments of CIA Roscoe's program was the identification of a homicide suspect in a 2019 Tampa Police Department (TPD) case. Through various intelligence methods, CIA Roscoe was able to determine an inmate in HCSO custody had a connection outside the facility who committed a homicide in November 2019. Although the homicide suspect was only referenced by a nickname, CIA Roscoe was able to provide a possible suspect to TPD after searching through various law enforcement databases. The subject was arrested by TPD just three weeks after the homicide.

"CIA Roscoe's resourcefulness and professionalism have helped spearhead future intelligence projects within jail facilities to include training of personnel and enhanced communication protocols to reduce threats and potential violence," explained Sheriff Chronister.

"Agent Roscoe exemplifies the type of skills and abilities that make Florida Sheriffs' offices the best in the nation," said Florida Sheriffs Risk Management Fund Executive Director Don Eslinger. "He is constantly looking for ways to perform his duties to a higher level, to be innovative, and to serve the residents of Hillsborough county."

CIA Roscoe's achievement is highlighted in a video on the Florida Sheriff's Association YouTube page.

This is not the first time Agent Roscoe is being honored for his talent and commitment to the Sheriff's Office. He was awarded Civilian of the first quarter in March 2020. He was also chosen as Civilian Employee of the Year, which was awarded in June 2020.