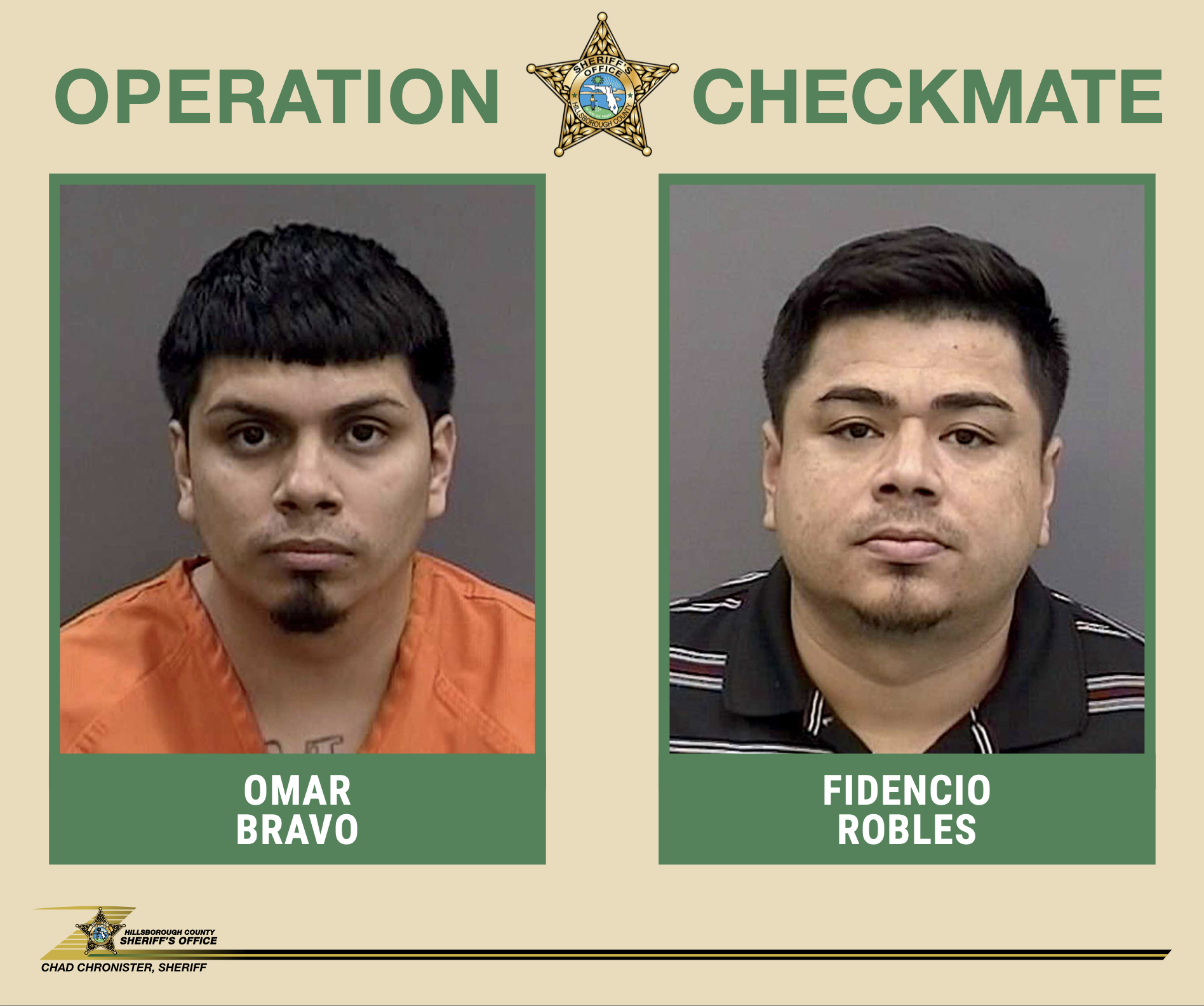 Sheriff Chad Chronister, joined by Florida's Attorney General Ashley Moody and Assistant Special Agent in charge of the DEA Tampa Mike Ferguson, announced the results of a three-month-long operation aimed at disrupting and dismantling a violent gang's distribution of deadly narcotics here in Hillsborough County. Operation Checkmate resulted in the arrest of 21 people, including two top gang leaders. Detectives seized drugs with a combined street value of almost a million dollars and other valuable items purchased with illicit cash.

Through investigative means, HCSO detectives became aware of an extensive narcotics distribution network operating within the Wimauma area. At the top, detectives identified two high-ranking members of the Latin Kings, one of the most prominent gangs worldwide, who have no value for human life. Here in Hillsborough County, the Latin Kings operate by aggressively trafficking massive amounts of narcotics.

"In a game of chess, checkmate is a term used when the king on a chess board can not escape; it's game over," said Sheriff Chad Chronister. "In this operation, "Checkmate" is fitting, as the Latin Kings and their criminal cohorts did not escape. They are under arrest; it is game over for them."

Fidencio Robles, 32, and Omar Bravo, 30, were top-ranking members of the Latin Kings in Florida. Bravo acted as the head narcotics supplier for the entire state. These two gang members, with the help of at least 19 other criminals, were generating thousands of dollars each month by selling their poison for profit.
On Thursday, February 23, 2023, detectives and our DEA partners served multiple court-authorized search warrants at five homes in the Wimauma area. These homes served as storage and distribution points for the Latin Kings and their narcotics operation.

Both Bravo and Robles are under arrest and charged with a number of crimes, including Armed Trafficking in Large Amounts of Fentanyl, Cocaine, Methamphetamine, and Heroin, Felons in Possession of Firearms and Ammunition, and Potential Charges Under the Organized Crime Statute.

"These gang leaders and their counterparts are violent individuals, who will not hesitate to inflict violence to get what they want," said Sheriff Chad Chronister. "They have no regard for the devastating and deadly effect their devious crimes have on our community."

We seized nearly a million dollars worth of narcotics, which included five kilograms of fentanyl, two kilograms of cocaine, two kilograms of methamphetamine, one kilogram of heroin, and two pounds of marijuana.

"How many overdoses and lives lost, right here in Tampa, can be attributed to the large amounts of fentanyl they've already distributed and sold," said Sheriff Chronister."We know that this amount of fentanyl is enough to kill everyone here in Hillsborough County twice."
Attorney General Ashley Moody said,
"Dangerous criminals MUST be removed from our communities and that is why, when you have violent gang members who commit new drug offenses, they must be prosecuted aggressively. My office will skillfully and diligently seek justice in this case to ensure these repeat offenders are taken off our streets and put behind bars—where they can no longer wreak havoc on our communities or harm innocent Floridians. As Attorney General, I will always aggressively pursue this responsibility through the jurisdiction of my office to protect Floridians and our millions of visitors."
Additional Images