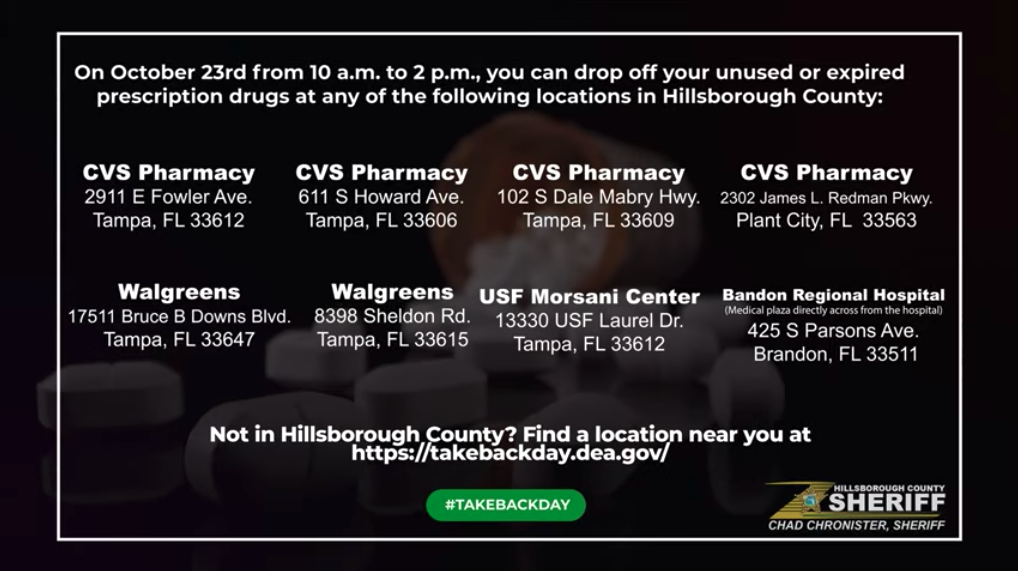 In partnership with the Hillsborough County Anti-Drug Alliance (HCADA), other local law enforcement agencies, and businesses, the Hillsborough County Sheriff's Office will once again participate in the U.S. Drug Enforcement Administration's (DEA) National Prescription Drug Take Back Day this weekend.

The event, which gives consumers an easy way to safely dispose of unused, unnecessary, or expired medications is set for Saturday, October 23, 2021, from 10 a.m. to 2 p.m. at eight locations throughout Hillsborough County:
Brandon Regional Hospital (medical plaza directly across from the hospital), located at 425 S Parsons Avenue in Brandon
CVS, located at 102 S Dale Mabry Highway in Tampa
CVS, located at 2911 E Fowler Avenue in Tampa
CVS, located at 611 S Howard Avenue in Tampa
CVS, located at 2302 James L Redman Parkway in Plant City
Walgreens, located at 17511 Bruce B Downs Boulevard in Tampa
Walgreens, located at 8398 Sheldon Road in Tampa
USF Morsani Center, located at 13330 USF Laurel Drive in Tampa
To find the location closest to you, please visit
https://takebackday.dea.gov
.
National Prescription Drug Take Back Day aims to keep prescription drugs out of the wrong hands by giving people a safe place to dispose of them, while also educating and informing the public about the dangers of abuse.
"There is no easier or safer way to get rid of those unwanted medications than at one of these drop-off locations," said Sheriff Chad Chronister. "Why not take advantage of this event, by cleaning out your medicine cabinets and bringing those prescription drugs to a place which will responsibly dispose of them? It's a win-win situation for everybody."
Sheriff Chronister also released a PSA on the event, which can be viewed
here
.