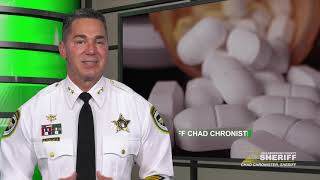 PSA on National Prescription Drug Take Back Day.

In recognition of National Prescription Drug Take Back Day, the Hillsborough County Sheriff's Office, in coordination with the Drug Enforcement Administration (DEA), Hillsborough County Anti-Drug Alliance (HCADA), Tampa Police Department, and other organizations, will host a prescription drug take back event this Saturday, April 24, from 10 a.m. to 2 p.m.

The annual drug take back event aims to provide a safe, convenient and responsible means for residents to dispose of prescription drugs while also educating the public about the potential for abuse if medications fall into the wrong hands.

On Saturday, April 24, residents can dispose of their unwanted drugs at the following four locations throughout Hillsborough County:

Bandon Regional Hospital
(Medical plaza directly across from the hospital)
425 S Parsons Ave, Brandon, FL 33511

CVS Pharmacy
2911 E Fowler Ave, Tampa, FL 33612

CVS Pharmacy
3102 W Gandy Blvd, Tampa, FL 33611

CVS Pharmacy
2302 James L Redman Pkwy, Plant City, FL 33563

Walgreens
8398 Sheldon Rd, Tampa, FL 33615

Walgreens
17511 Bruce B Downs Blvd, Tampa, FL 33615

Find the location closest to you by visiting https://takebackday.dea.gov.