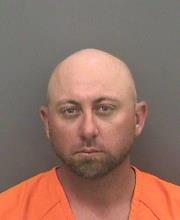 On March 15, the Hillsborough County Sheriff's Office Agricultural Crimes Unit was contacted by a rancher in the southeastern part of Hillsborough County who reported that someone was repeatedly and intentionally cutting the fence and damaging the fence posts and gate to his ranch. The rancher's fencing contains cattle raised as a source of income for the rancher's family. The damage resulted in more than $1,000 in unnecessary repairs to the fencing.

The Hillsborough County Sheriff's Office Agricultural Crimes Unit responded to the location and conducted a thorough investigation leading to the arrest of Brady Matthew Bettis, 33, on March 23.

Bettis admitted to deputies that he had secretly been cutting the fence repeatedly because he thought the property belonged to someone he did not like. He later realized he had confused the ranch with another location. Bettis was charged with four counts of Breaking/Injuring Fences Containing Animals.

"In the eastern part of Hillsborough County, cattle are essential to a rancher's livelihood. Intentionally damaging a fence containing cattle poses a danger to both the public and the livestock, and it is unacceptable" said Sheriff Chad Chronister. "I am thankful that through diligent investigative work our deputies were able to catch this culprit and stop him from causing any more financial harm to this innocent rancher or any other property owners in our county."

Additional Images