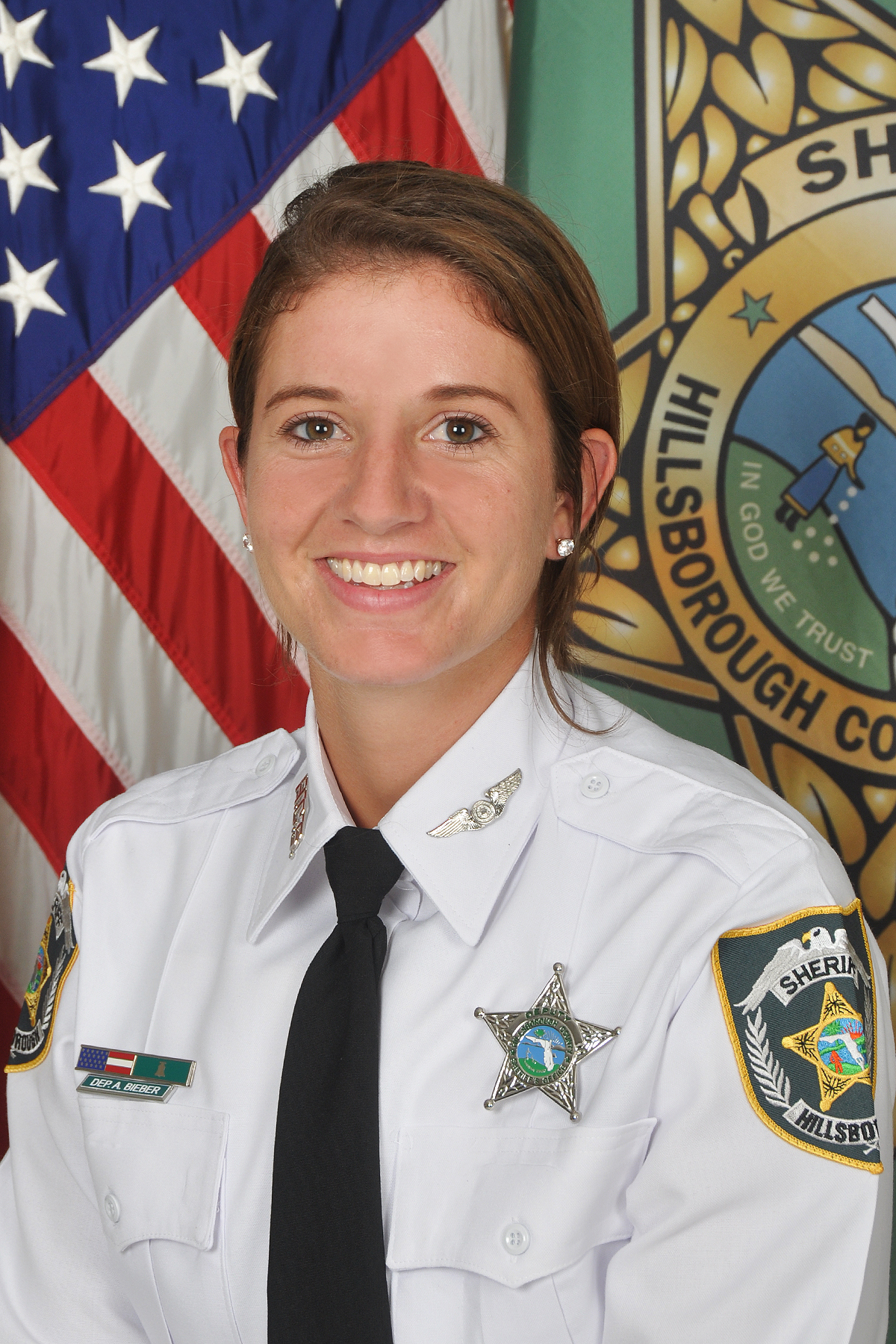 With the approval of the family, the Hillsborough County Sheriff's Office can confirm the name of the second deputy found deceased in St. Augustine, FL, on Saturday.
Deputy Abigail Bieber, who patrolled the northwest portion of Hillsborough County, was fatally shot on January 29, 2022. Deputy Bieber, who was 30 years old, had worked with the Hillsborough County Sheriff's Office since February of 2018.
"𝘿𝙚𝙥𝙪𝙩𝙮 𝘼𝙗𝙞𝙜𝙖𝙞𝙡 𝘽𝙞𝙚𝙗𝙚𝙧 𝙬𝙖𝙨 𝙖𝙣 𝙤𝙪𝙩𝙨𝙩𝙖𝙣𝙙𝙞𝙣𝙜 𝙡𝙖𝙬 𝙚𝙣𝙛𝙤𝙧𝙘𝙚𝙢𝙚𝙣𝙩 𝙤𝙛𝙛𝙞𝙘𝙚𝙧, 𝙖𝙣𝙙 𝙗𝙮 𝙖𝙡𝙡 𝙖𝙘𝙘𝙤𝙪𝙣𝙩𝙨, 𝙖𝙣 𝙚𝙫𝙚𝙣 𝙗𝙚𝙩𝙩𝙚𝙧 𝙥𝙚𝙧𝙨𝙤𝙣 𝙬𝙝𝙤 𝙡𝙚𝙛𝙩 𝙖 𝙥𝙤𝙨𝙞𝙩𝙞𝙫𝙚 𝙞𝙢𝙥𝙖𝙘𝙩 𝙤𝙣 𝙚𝙫𝙚𝙧𝙮 𝙢𝙚𝙢𝙗𝙚𝙧 𝙤𝙛 𝙝𝙚𝙧 𝙨𝙦𝙪𝙖𝙙 𝙖𝙣𝙙 𝙩𝙝𝙚 𝙘𝙤𝙪𝙣𝙩𝙡𝙚𝙨𝙨 𝙢𝙚𝙢𝙗𝙚𝙧𝙨 𝙤𝙛 𝙤𝙪𝙧 𝙘𝙤𝙢𝙢𝙪𝙣𝙞𝙩𝙮 𝙬𝙝𝙤 𝙨𝙝𝙚 𝙚𝙣𝙘𝙤𝙪𝙣𝙩𝙚𝙧𝙚𝙙 𝙬𝙝𝙞𝙡𝙚 𝙤𝙣 𝙥𝙖𝙩𝙧𝙤𝙡," 𝙨𝙖𝙞𝙙 𝙎𝙝𝙚𝙧𝙞𝙛𝙛 𝘾𝙝𝙖𝙙 𝘾𝙝𝙧𝙤𝙣𝙞𝙨𝙩𝙚𝙧. "𝙏𝙝𝙞𝙨 𝙩𝙧𝙖𝙜𝙚𝙙𝙮 𝙝𝙖𝙨 𝙡𝙚𝙛𝙩 𝙤𝙪𝙧 𝙎𝙝𝙚𝙧𝙞𝙛𝙛'𝙨 𝙊𝙛𝙛𝙞𝙘𝙚 𝙛𝙖𝙢𝙞𝙡𝙮 𝙜𝙧𝙞𝙚𝙛-𝙨𝙩𝙧𝙞𝙘𝙠𝙚𝙣. 𝙏𝙝𝙚𝙧𝙚 𝙞𝙨 𝙖 𝙫𝙤𝙞𝙙 𝙬𝙞𝙩𝙝𝙞𝙣 𝙤𝙪𝙧 𝙝𝙚𝙖𝙧𝙩𝙨 𝙩𝙝𝙖𝙩 𝙘𝙖𝙣 𝙣𝙚𝙫𝙚𝙧 𝙗𝙚 𝙛𝙞𝙡𝙡𝙚𝙙, 𝙗𝙪𝙩 𝙄 𝙝𝙤𝙥𝙚 𝙩𝙝𝙖𝙩 𝘿𝙚𝙥𝙪𝙩𝙮 𝘽𝙞𝙚𝙗𝙚𝙧'𝙨 𝙡𝙚𝙜𝙖𝙘𝙮 𝙬𝙞𝙡𝙡 𝙗𝙚 𝙩𝙝𝙚 𝙬𝙖𝙮 𝙨𝙝𝙚 𝙡𝙞𝙫𝙚𝙙 𝙝𝙚𝙧 𝙡𝙞𝙛𝙚, 𝙖𝙨 𝙖 𝙨𝙚𝙡𝙛𝙡𝙚𝙨𝙨 𝙨𝙚𝙧𝙫𝙖𝙣𝙩."
As a passionate advocate for child victims, Deputy Bieber frequently and diligently responded to calls for service related to sexual battery and child abuse. She aspired to one day become a detective within the Criminal Investigations Division Special Victims Section. During her nearly four years at HCSO, Deputy Bieber had a number of remarkable encounters, including everything from taking drugs off of our streets to serving as a role model to children she met during her shifts. Known for her contagious smile, Deputy Bieber was a friend to fellow deputies and a bright spot in a dark world, as described by a squadmate. Co-workers also described Deputy Bieber as a young woman with a positive attitude who never shied away from tough investigations. She was known for being kind, genuine, caring, and empathetic with the demeanor of a veteran law enforcement officer.
Funeral arrangements have not yet been finalized. The family of Deputy Bieber is asking for privacy during this time.