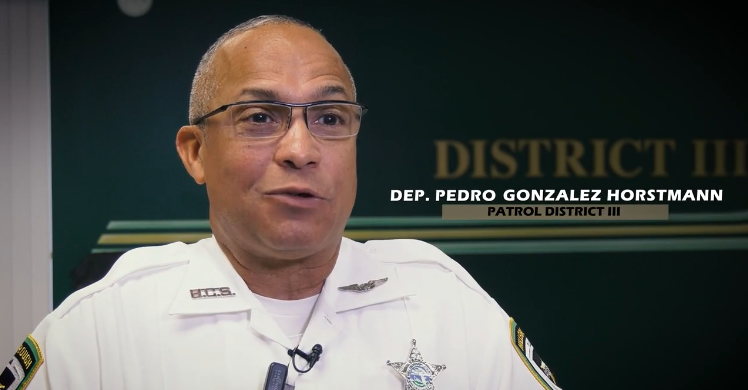 At 37 years old, Deputy Pedro Gonzalez Horstmann left his home in Havana, Cuba to seek political asylum and start a new life for himself and his family.

He left behind family and friends, and a career in law enforcement. He immigrated to Ukraine and Mexico, before ultimately crossing the border in Texas in 2012. Leading up to a career at the Hillsborough County Sheriff's Office, Deputy Gonzalez Horstmann was a teacher, Uber driver, and pizza delivery driver.

"Any goal you have in this country, the United States, you can get it," said Deputy Gonzalez Horstmann. "I started this career at 51 years old. Now I'm 52. My first years in patrol. I don't regret any decision I have taken in my life."

His law enforcement career came full circle when he joined HCSO in November 2020. He graduated from the academy in June 2021.

"Deputy Gonzalez Horstmann's journey to HCSO was filled with trials and triumphs, but he never let it deter him from reaching his end goal, which was to ultimately return to a career in law enforcement," said Sheriff Chad Chronister. "Our Hillsborough County community will benefit from the many places he's been and all of the experiences he's had along the way."

"Before the Badge" showcases the trials and tribulations #teamHCSO staff has faced getting to where they are today. It will highlight the many different countries they are from, as well.

The sixth episode of "Before the Badge" featuring Deputy Gonzalez Horstmann is available for viewing here.

The Hillsborough County Sheriff's Office is currently hiring law enforcement, detention, and non-sworn (civilian) positions. To learn more about our current openings or to apply for a position with the Hillsborough County Sheriff's Office, please visit our website at www.joinHCSO.com.

At this time, HCSO is also offering:
Signing bonuses
Paid training
Free medical option
For more information, you can also contact the Hillsborough County Sheriff's Office Recruitment and Screening Section at (813) 318-5300.