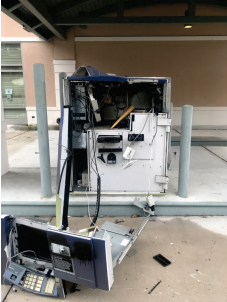 The Hillsborough County Sheriff's Office is investigating an ATM explosion that occurred early Sunday morning at the Pilot Bank located at 12471 W. Linebaugh Avenue.

At 3:11 a.m. December 22, 2019, a male suspect spray painted the exterior video surveillance cameras black, including the drive-up ATM camera. Later, at 4:25 a.m, there was an explosion from the ATM.

The suspect was unable to gain access to the ATM's internal safe, so no money was taken from it.

The incident is similar to one that occurred November 4 at a BB&T Bank in Oldsmar. The Pinellas County Sheriff's Office is still investigating that incident.

This is an open and active investigation. No further information will be released at this time.
Additional Images