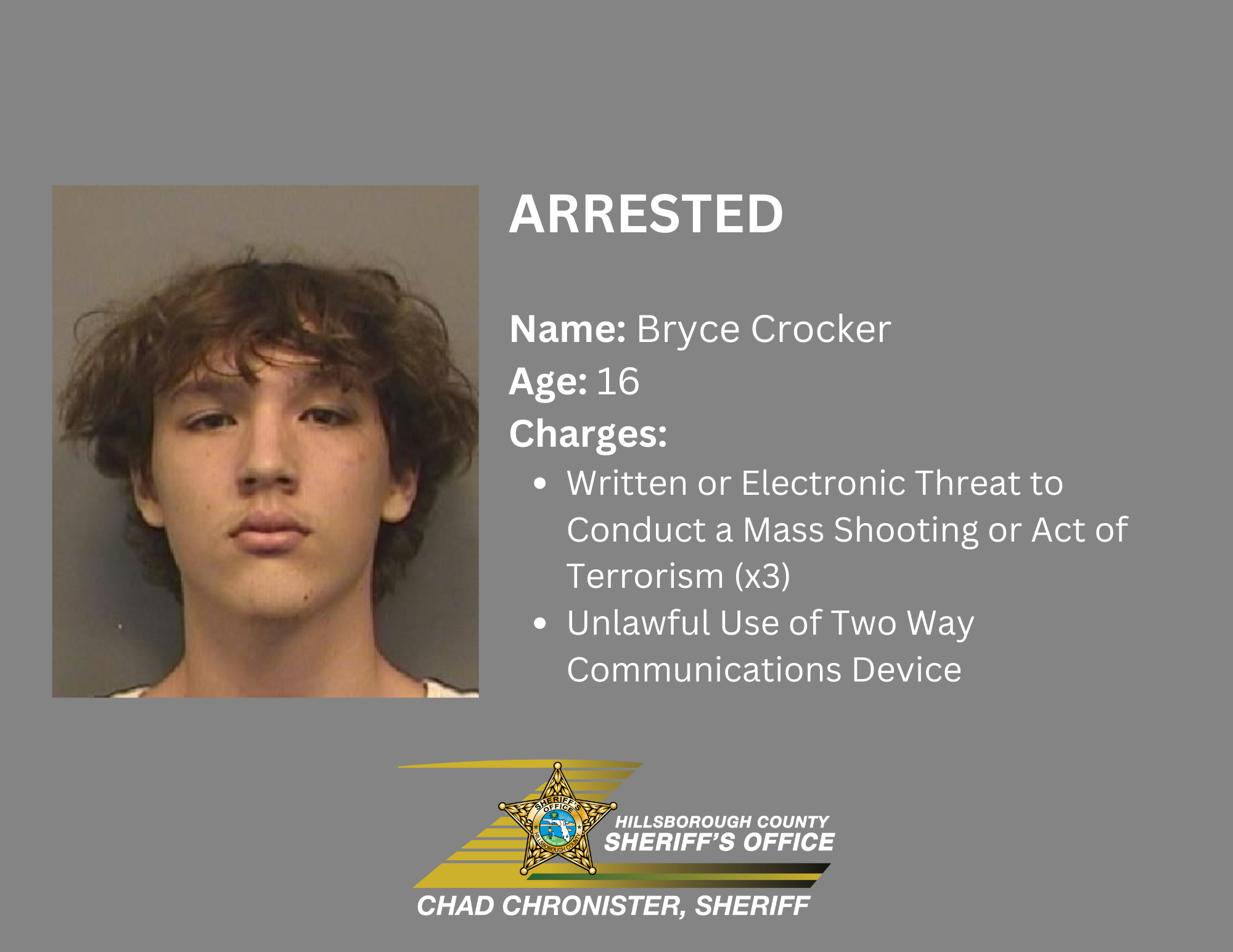 A Hillsborough County teen is facing charges after making school threats on social media.
On November 16, 2023, the Hillsborough County Sheriff's Office arrested Bryce Crocker, 16. Crocker posted comments on the Pinellas County Sheriff's Office's Instagram, threatening to bomb schools, and claiming to have placed explosives at schools. The following comments were posted online:
- "I placed explosives set to detonate tomorrow at 3:00 in every school in the county."
- "I'm going to firebomb every school in the county."
- "I'm going to bomb every school in the county tomorrow."
In less than an hour from the moment that HCSO was notified, STAR Detectives arrived and met with Pinellas County Sheriff's Detectives at the home of Crocker located on the 15000 block of Almond Wood Drive. Speaking with the detectives, the juvenile admitted to making the comments online. Deputies searched the home, and no bomb-making materials were found.
"There is no scenario where this kind of comment is a joke or funny," said Sheriff Chad Chronister. "We take any threat of violence, especially involving our schools, very seriously. Now, this teen will face the consequences of his reckless actions."
Bryce Crocker is now facing three counts of Written or Electronic Threat to Conduct a Mass Shooting or Act of Terrorism and one count of Unlawful Use of a Two Way Communications Device.
The Hillsborough County Sheriff's Office did direct patrols to check local schools to ensure the safety and security of our students. Deputies found no evidence of explosives anywhere.
This is still an active investigation. Any updates will come from the HCSO Public Affair's Office.
Additional Images