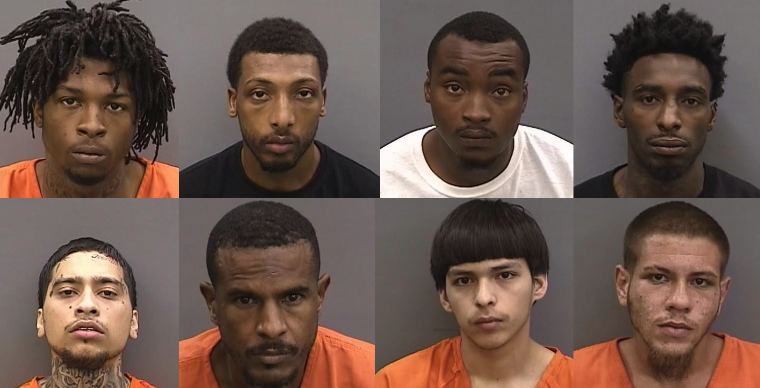 During a week-long coordinated operation, the Hillsborough County Sheriff's Office successfully removed illegal firearms and narcotics from our communities, significantly ensuring a safer environment for everyone.
Throughout the week of Spring Break (March 13 to 17), teamHCSO arrested seven active gang members and removed seven firearms from subjects illegally possessing them.
"Operation Spring Cleaning" was conducted in HCSO's District II, which includes Thonotosassa, Seffner, Dover, Plant City, and Valrico. The initiative's primary objective was to reduce crime within the district by focusing on juveniles and known subjects that traditionally made the most extensive impacts during Spring Break.
"My top priority as Sheriff is always the safety and security of our community," said Sheriff Chad Chronister. "With the successful removal of these illegal firearms and drugs from our streets, we can all rest a little easier knowing that our neighborhoods are safer."
Arrests included:
Michael Davis, 24. Davis was wanted for violation of his probation counts, including felon in possession of a firearm, possession of cocaine, possession of marijuana, and fleeing to elude. He intentionally rammed his car into several Plant City Police cars on March 14, 2023.
Xavier Camacho, 22. Camacho was on probation for robbery and is a known Blood gang member. After obtaining probable cause, teamHCSO secured a loaded Glock 19 handgun and well over $10,000 in US currency. He was arrested for felon in possession of a firearm.
Tony Henry, 18. Henry was on probation for aggravated assault and is an active member of the Rose Gang. Deputies secured a Ruger EC9, Taurus G2C 9 mm, ammunition, and a drum magazine. He was charged with violation of probation and felon in possession of a firearm.
Keith Gardner, 26. Gardner is a known member of the 32nd Street gang and was found in possession of cannabis, carrying a concealed firearm, and felon in possession of a firearm.
Eugene Cato, 20. Cato was with Gardner, mentioned above, and was charged with violating probation and carrying a concealed firearm.
Joseph Valdes, 40. Valdes was taken into custody without incident and charged with violation of probation, grand theft motor vehicle, and possession of fentanyl.
Efren Hernandez, 24. A search of his vehicle revealed a loaded Taurus 9 mm handgun that had been stolen from Osceola County. He was charged with violation of probation and felon in possession of a firearm.
Ricky Martinez, 19. Martinez, a known Dover Locos associate, was carrying a fully loaded Glock 19 firearm and was charged with carrying a concealed firearm.
The investigation into these arrests is ongoing—any updates in regards to these cases with come from the Public Affairs Office.
Additional Images