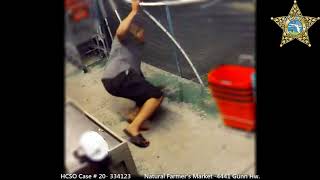 The Hillsborough County Sheriff's Office is seeking the public's assistance in identifying a man who stolen baskets of fruit and flowers from the Natural Farmer's Market in the Carrollwood area.

On May 18, 2020, at 1 a.m., an unidentified man jumped the exterior gate to the Natural Farmer's Market, 4441 Gunn Hwy. The suspect damaged the gate as he gained entry and stole two grocery baskets full of watermelon and flowers.

His theft and escape were recorded on a store surveillance camera. Click here to see the full video: youtu.be/3hPisT8Ai-U

"This man's crime may seem victimless, but it impacts the hard-working business owner who depends on this produce for income," said Sheriff Chad Chronister. "Thankfully, the security camera at this business was able to show us who committed this crime. We are confident someone will recognize him from this video."

If you have any additional information on this individual, please contact the Hillsborough County Sheriff's Office at (813) 247-8200 or Crime Stoppers of Tampa Bay at 1-800-873-TIPS (8477).
Additional Images