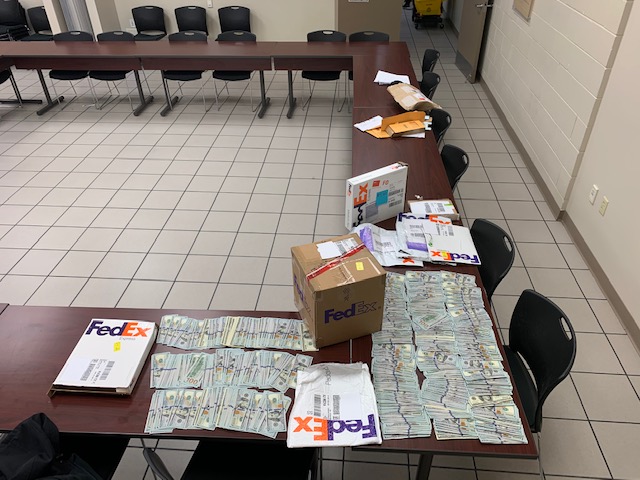 On February 20, 2020, the Hillsborough County Sheriff's Office received an anonymous tip regarding a fraud scheme of an elderly person.

The victim, who is from New Jersey, sent U.S. currency via FedEx to an address in Tampa. It was addressed to the suspect. The victim believed the suspect was assisting in the removal of a virus off of their computer. The victim soon realized it was a scam and contacted authorities in New Jersey.

At a local FedEx distribution center in Tampa, detectives were able to intercept the victim's package containing the money. In addition, there were several other packages addressed to the suspect, identified as Dontavius Oakley, 35. Those packages also contained U.S. currency from victims in Hillsborough County, California, Massachusetts, Mississippi, Missouri, Ohio, Oregon and Texas.

Undercover detectives later delivered some of those packages containing money to their expected address: a Rodeway Inn Motel located at 6510 Highway 301 in Tampa. The detectives dropped them off at the lobby and began conducting surveillance on Oakley, who was seen leaving and returning to his room.

Oakley and another suspect, Carlton Thomas, 50, left the motel and drove away from the area. Deputies and K-9 units assisted with a traffic stop on the vehicle, and the two suspects were arrested.

Oakley faces charges of Organized Fraud, Grand Theft Second Degree and Violation of Probation - Fleeing to Elude. Prior to this arrest, he was on probation until April 2022.

Thomas is wanted on an out-of-state warrant from New Jersey. He was also driving with a counterfeit driver's license.

Detectives recovered a total of nine packages containing cash in the amount of $81,000 from potential victims. They are working to identify the other eight victims and are conducting interviews as the investigation continues.

If anyone has been contacted by Dontavius Oakley, also known as Don Pazious, or Carlton Thomas in order to resolve a computer virus or other fraud, please contact the Hillsborough County Sheriff's Office at (813) 247-8200.