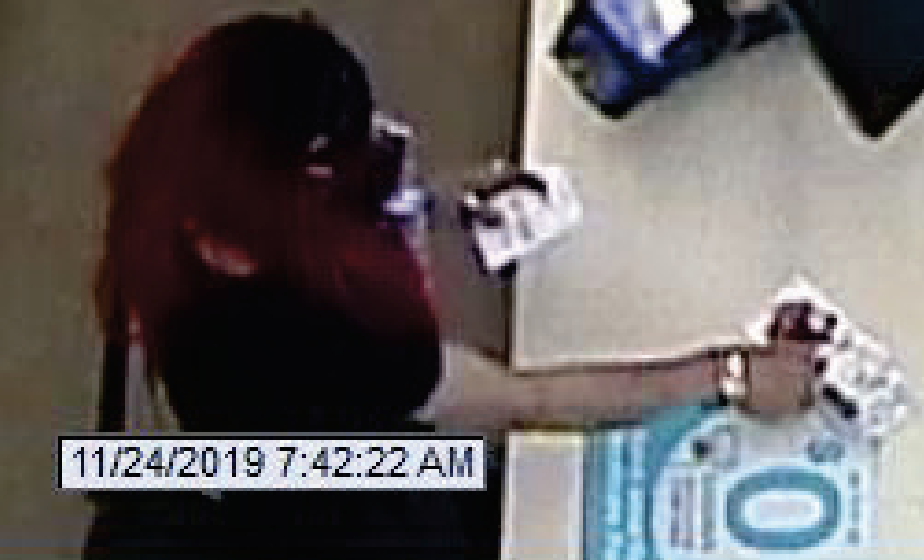 During the early morning hours of November 24, 2019, unknown suspect(s) entered the victim's unlocked vehicle and took a wallet with debit and credit cards, cash and other miscellaneous items.

Later that morning, at the Walgreens located at 11115 Dr. Martin Luther King Jr Blvd. E. in Seffner, a white female suspect was seen on surveillance video attempting to use three of the victim's stolen debit and credit cards for $373.30, but was unsuccessful. The following day on November 25, 2019, that same female suspect was seen on a security camera using another victim's credit card from a separate theft case.

This suspect was seen being dropped off in a tan/beige Kia Soul. Detectives believe the vehicle could be a Lyft.

The female suspect was seen wearing jeans, a short sleeve black t-shirt, sandals and carrying a black messenger back. She is approximately 25-40 years old, 5'5"-5'7" tall, medium to large build, and has black hair, with her ends dyed bright red (possible extensions).

If you have any information, you're asked to call the Hillsborough County Sheriff's Office at (813) 247-8200.
Additional Images