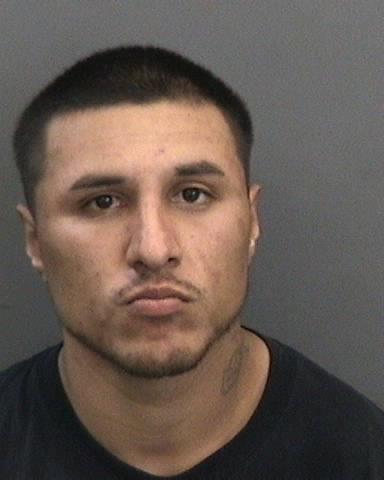 A man is in custody after leading multiple law enforcement agencies on a dangerous pursuit through two counties putting innocent motorists at risk.

On January 19, 2022, a Hillsborough County Sheriff's Office Detective and federal agents with The Bureau of Alchohol, Tobacco, Firearms and Explosives (ATF) were conducting surveillance on Francisco Cabrera, 27, after they believed he was connected to several robberies and armed carjackings in Brandon and Plant City.

Around 11:30 a.m., Cabrera was spotted at the Wendy's at 1601 West Baker Road in Plant City, but he eluded law enforcement when they tried to take him into custody. Cabrera then lead law enforcement on a vehicle pursuit eastbound on I-4. He shot at law enforcement several times during the pursuit.

"With no regard for anyone's life but his own, Cabrera shot recklessly at law enforcement while traveling down the busy interstate," said Sheriff Chad Chronister. "This could have ended with innocent lives lost, but thanks to the brave work of HCSO and our local and federal law enforcement partners, this incident ended with a violent individual in custody."

HCSO, Lakeland Police and ATF were able to stop Cabrera's vehicle on the 3000 block of New Tampa Highway when a Lakeland Police officer successfully performed a pit maneuver. Cabrera continued to refuse commands to exit his vehicle and show his hands, putting law enforcement in fear for their lives and the public at risk with the crash scene being located directly in front of the headquarters for Publix. Members of HCSO, Lakeland PD and ATF fired shots at Cabrera, striking him. After being shot, Cabrera continued to be combative as law enforcement attempted to remove him from his vehicle to arrest him and render aid. Law enforcement officers were forced to tase Cabrera in order to take him into custody. Law enforcement and paramedics performed life saving efforts on scene prior to Cabrera being transported to a local hospital. Cabrera is currently in stable condition.

Cabrera has a lengthy criminal history in Hillsborough County, including eight felony charges, two felony convictions, and seven misdemeanor charges, which include multiple drug charges, violation of parole, and domestic violence arrests.


Cabrera will be booked into the Polk County Jail. Charges stemming from the incident will come from the Lakeland Police Department.

Cabrera's previous booking photo is attached.