Sergeant Brian LaVigne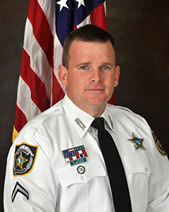 It is with great sadness we announce the loss of Hillsborough County Sheriff's Office Sergeant Brian LaVigne, who was killed in the line of duty on Monday, January 11, 2021.

Funeral Arrangements
Sergeant LaVigne's visitation and funeral will be held on Tuesday, January 19, 2021, at Idlewild Baptist Church located at 18333 Exciting Idlewild Boulevard in Lutz, FL. Both the visitation and funeral service are open to the public.
Visitation will be from 10:00 a.m.-11:00 a.m. The funeral service will begin at 11:00 a.m. Immediately following the service, guests will be directed outside the church for a special ceremony. A procession will take place thereafter.

For those members of the public wishing to attend, parking for the general public will be on the eastern and southwestern sides of Idlewild Baptist Church. A map has been provided below. The dress code is business professional and all black.
Video recording and still photography of any kind will not be allowed inside the church. Face coverings are required for everyone in attendance. A temperature screening will also be required prior to entry.

Following funeral services and outdoor tributes, a procession will take place from Idlewild Baptist Church to the Hillsborough County Sheriff's Office District V office, located at 10128 Windhorst Road in Tampa. The procession will leave the church at about 12:45 p.m., and there will be rolling traffic delays on N Dale Mabry Highway, Bearss Avenue, I-275 N, I-4 E, Dr. Martin Luther King Jr. Boulevard and Falkenburg Road. HCSO is asking any who wishes to pay their respects during the procession to do so from N Dale Mabry Highway, Bearss Avenue, Dr. Martin Luther King Jr. Boulevard, and Falkenburg Road. The rolling traffic delays will take place from approximately 12:45 p.m. and 1:45 p.m. The procession route has also been provided below.

In lieu of a physical memory book during funeral services, a digital one has been created. Those who would like to leave a note in remembrance of Sergeant LaVigne can do so by emailing RIPLaVigne@teamhcso.com. All of the notes emailed to this address will be compiled and given to the LaVigne family.

Idlewild Parking Map Funeral Procession Route
Donating to the LaVigne family